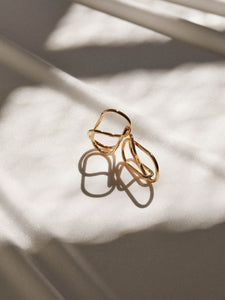 IN RAW STATE
Guided by matter in its most original state, Alexandra David imagines and creates minimalist jewelry combining design and reversibility. Influenced by design and architecture, the Stijl movement, the Bauhaus and the Art Deco style, the designer combines design and jewelery for a rendering with pure lines and architectural forms.
Neither in front nor behind, the jewels exist in their entirety.
Discover our iconic pieces
REVERSIBLE COLLECTION
For its first collection, Mayrena Paris reveals a collection of reversible, minimalist and modern jewelry. Without front or back, Mayrena's jewelry has no hidden side. From the point to the line, from the square to the circle, the designer breaks the classical codes and breaks with the balance and the traditional typology of a jewel. Indeed, Alexandra works on other ways that a jewel has to exist on the body. She sees it as a sculpture based on the woman.
Our reversible jewelry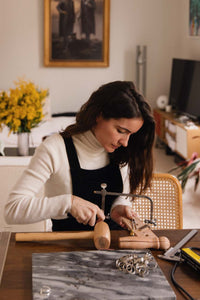 A BRUT AND ARTISANAL CREATION TECHNIQUE
She works on combinations, uses certain assembly techniques, plays with fundamental shapes, angles, curves and shapes the wire as a draftsman would bring his drawing to life.
" I like to combine the drawing technique with the shaping of the yarn. It is a permanent dialogue that allows me to always go further and to develop each of my creations. Sometimes unexpected things happen due to the constraint of the material or the vision of the 2D plane. This is the kind of surprise I'm looking for. They allow me to adapt the initial project to reality. During the final rendering, I materialize all my ideas in 3D on CAD software for more precision towards manufacturing".
Discover all my creations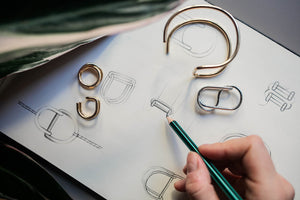 "My inspirations are many. I grew up in Normandy, surrounded by horses. The equestrian aesthetic has always had a big influence on me. I recovered horse bits that I modified by making belt buckles, I diverted rings of nets to associate them with a bracelet or a necklace. My professional background in product design at La Cambre in Brussels as well as two years of freelance work for Dutch designers in Rotterdam allowed me to develop a strong interest in the minimalist, raw and modern aesthetics of the Nordic countries. The bracelets and necklaces are entirely made in my workshop then plated by one of the best Parisian specialists in galvanizing. The base of the rings is made overseas. The finishes are made in our Nordic workshop and the plating in the same workshop as the bracelets and necklaces. "